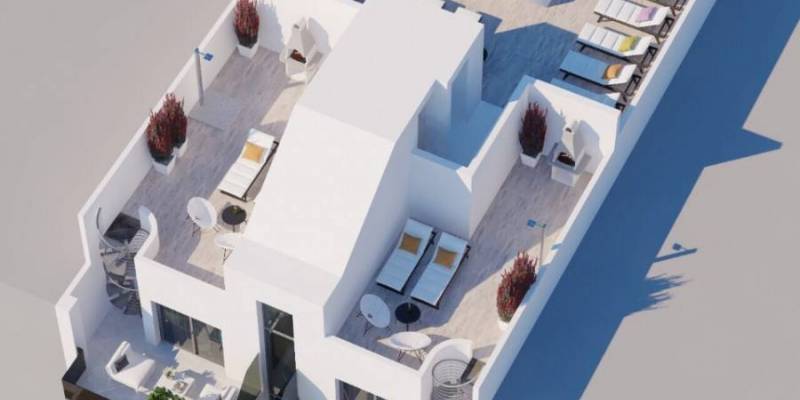 We analyze one of our penthouses for sale in Playa del Cura
In this post we will analyze all the characteristics of one of the penthouses for sale in Plata del Cura that Eden Properties puts at your disposal. This beautiful penthouse is located in Torrevieja, on the Playa del Cura. It is perhaps one of the best areas of this city, located south of the Costa Blanca (province of Alicante). This property is located a few steps from the town center and only 200 meters from the sea.
In our attic you will live and enjoy as you have never done before. It has 3 double rooms so that you and your family can live together in the most comfortable way possible. In addition, it offers 2 bathrooms, a beautiful terrace, balcony, communal pool, garden, and a solarium equipped so you can sunbathe more than 2,800 hours a year enjoying this area of Spain.
What else offers these penthouses for sale in Playa del Cura?
The proximity to which is located our penthouses for sale in Playa del Cura in the center of Torrevieja, allows you to have access to all the commercial premises you want. Leisure is one of the tourist engines of this city, so you can have fun discovering each of them.
Being built just 200 meters from the Playa del Cura, our penthouses offer beautiful views of the Mediterranean coast. Dining while the sun hides, or waking up while dawn, are scenes to which you can immortalize housing in them.
The weather in Torrevieja in spectacular. For the few days that are cold, our homes have heating. But you will hardly use it. What you will appreciate will be the air conditioning that also comes integrated. The summers are very hot and to have this type of device, it is appreciated.
Choose to live in our penthouses for sale in Playa del Cura
If you want to live in an incredible place with thousands of qualities, bet on our penthouses for sale in Playa del Cura. You can hire your home, by contacting us by calling 965 706 868 - 628 788 873.
You can visit us in person at Calle Zoa Nº58 Torrevieja (Alicante) 03182. In the same way, you can get in touch with us by writing an email to info@edenproperties.es. In any case, we will respond to you as quickly as possible.